Load shedding
Wat is dat? Geen elektriciteit voor een periode van een uur of twee. Voor de mensen hier is het heel gewoon, iedereen heeft ermee te maken. Het elektriciteitsnet is niet sterk genoeg om iedereen constant van energie te voorzien, en daarom worden gebieden omstebeurt voor een korte tijd afgesloten.
Terwijl we soep zaten te eten viel plots de elektriciteit uit. Load shedding. We waren niet voorbereid en zaten in het pikdonker. Ik vind het wel fijn, die periodes zonder elektriciteit. Heel snel word je je bewust van alles dat niet kan zonder elektriciteit, en dan kun je iets anders gaan doen. En dan net zo plotseling als het wegviel, flitsen alle lampen en apparaten weer aan en is de lucht weer gevuld met een zacht gebrom
1 april. De hele dag geen stroom. Toen het werd aangekondigd, vroegen we ons af of het een grap was. Vanochtend om 10u bleek het geen grap, er is geen elektriciteit. In het dorp draaien een paar generatoren om de koeling in de supermarkt aan te houden, maar er is geen licht in de winkels. Shopping in the dark.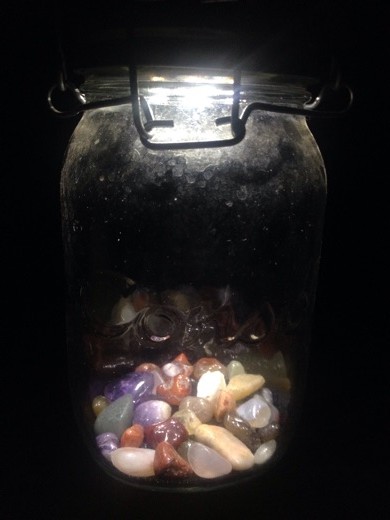 In de Ecolodge hebben we glazenpotten gevuld met gekleurde stenen met in de deksel een ledlampje dat werkt op zonne-energie om ons door de donkere uren te helpen.