Boek | Secrets of the Savanna
Dit boek kocht ik aan de weg naar South Luangwa en het gaat over conservation in North Luangwa. Mark en Delia, een Amerikaans stel dat 23 jaar in Afrika onderzoek deed naar leeuwen en olifanten en ander wildlife, schreven dit boek over hun laatste jaren in Zambia.
- Interessant: hoe het leven van biologen in de bush eruit ziet.
- Mooi: voorbeeld van hoe community empowerment eruit kan zien. Als appendix in het boek, geven ze een uitgebreide beschrijving van de structuren die ze hebben opgezet.
- Niet zo interessant: de herinneringen aan hun jeugd.
- Wel grappig: hoe ze door het gedrag van een olifantenpopulatie te bestuderen waar alle matriarchen zijn gepoached, zelf leren dat ze ook een "troep" nodig hebben, na jaren lang in de bush te hebben gewerkt, zonder vrienden en familie.
- Wat ik eruit leerde: Cooking oil is een luxe.
- Persoonlijke link: Lijkt misschien op het werk van Keith en Colleen, de mensen die we gaan opzoeken in Noord-Mozambique.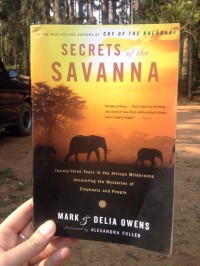 Secrets of the Savanna - Mark & Delia Owens