Contact
Wij zijn Willemijn de Groot en Jan Henk Tigelaar uit Amsterdam.
Willemijn is beeldend kunstenaar en werkte voor vertrek als Ambulant Specialist bij Amsta. Willemijn heeft oog voor mooie dingen en kan ze ook zelf maken. Ze is een geweldige kok en steengoede organisator. Ze woonde in Oudezijds 100, een woongemeenschap midden op de wallen en is geïnteresseerd in grote en kleine gemeenschappen, die zich rond een gezamenlijk ideaal verenigen.
Jan Henk is planoloog en werkte voor vertrek bij Royal HaskoningDHV als omgevingsmanager. Jan Henk verbindt mensen en ideeën. Hij is een inspirerende gesprekspartner en kan lekker brainstormen. Jan Henk is een bevlogen bepleiter van duurzame ontwikkeling en wil met deze reis zijn kennis en praktische ervaring verder uitbreiden. Thuis is hij Bestuurslid van Amsterdam Energie.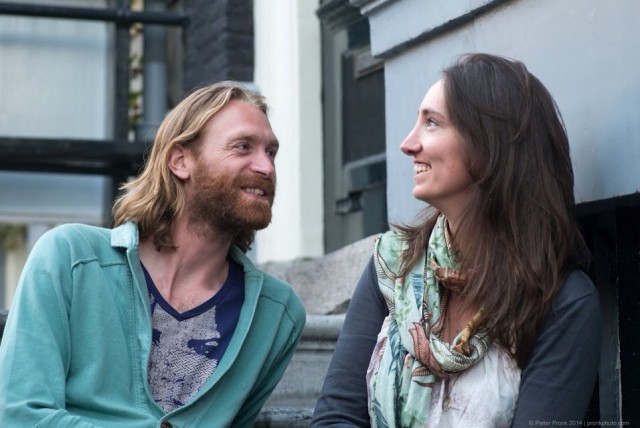 Contact
We are Willemijn de Groot and Jan Henk Tigelaar from Amsterdam.
Willemijn is a visual artist. Before setting out on this journey, she had a part time job helping mentally challenged people to survive in our complex society. Willemijn has an eye for finding beauty around her and is always looking to create beautiful things. She is also an experienced cook and a strong organiser. In Amsterdam she lived in Oudezijds 100, an ecumenical community in the middle of the red light district. She is interested in big and small communities, that gather around a common ideal.
Jan Henk is a city and infrastructure planner who previously worked for Royal HaskoningDHV as stake holder manager. Jan Henk's strength is connecting people and ideas. He is an inspiring collocutor and a creative brain stormer. During this journey he is further building his knowledge and hands on expertise in sustainable development. He is convinced that we need to find new and less destructive ways to provide in our basic needs. At home he's a board member for Amsterdam Energie, a local energy cooperative that provides clean, fossil free energy for the people of Amsterdam.